The aims of the Friends of Centre Vale Park group volunteers are to protect, improve, promote and enhance Centre Vale Park.
Activities include hands on projects such as woodland management, planting initiatives and path improvements as well as the planning and promotion of projects such as the development of the parks facilities through fundraising and public awareness.
We help ensure the park is well maintained and raise and monitor any issues that arise with the Local Authority staff who oversee the park.
We hold monthly meetings to discuss future events and planning, review the effectiveness of past activities and organise work for volunteer days (usually twice per month).
Please access all the pages within the website using the tabs at the top to discover more about what we do and how you can volunteer, plus details of how you can explore the heritage trail.
---
Picnic in the Park 2023
This year's Picnic in the Park was a great success. The rain held off so everyone was able to enjoy the fantastic music provided by Todmorden Community Brass Band, play games, buy plants from a well stocked plant stall and most of all just relax and have fun.
---
Jubilee Picnic in the Park Commemorative Book
On Thursday 16 March 2023 residents young and old from Todmorden gathered to launch our Commemorative Book of the Jubilee Picnic in the Park.
Produced with the help of a grant from Todmorden Town Council, the full-colour A4 24-page book contains all the amazing lyrics to the Todmorden Cantata, photographically illustrated, plus photographs from the day itself.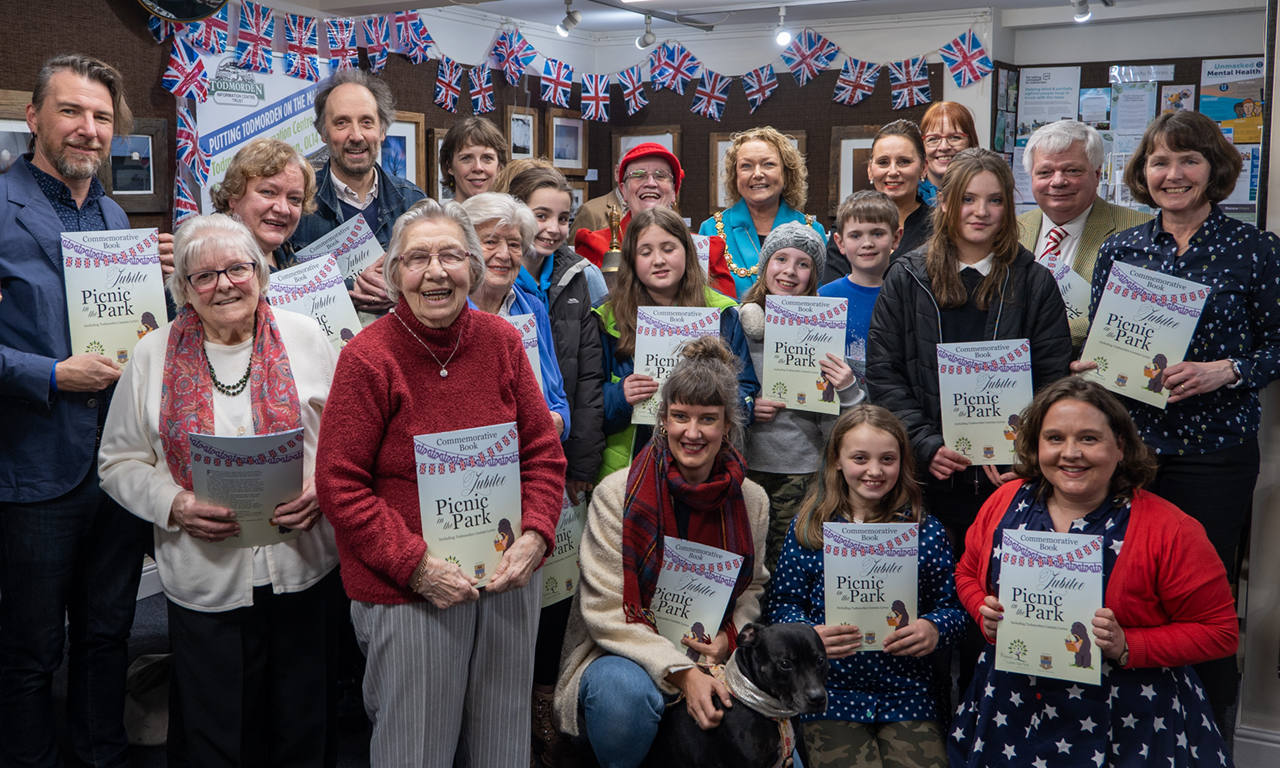 Inside the book
Liz Thorpe Town Mayor, Tim Cole Deputy Lieutenant and Pat Dale, Town Cryer
Jenny Crabtree, Molly Wilson and Greta Gill
GO GET YOUR COPY
The Commemorative Book is only available from Todmorden Information Centre - opposite the Town Hall on Burnley Road.
It is available at no cost, though a suggested donation of £3-£5 is requested.